If you want to see Procida, this is your chance to spend some lovely days in there!
You will appreciate our hospitality, in a pleasant, familiar and suitable place where you can spend full relax days sorrounded by greenery
Some infos about Le Querce: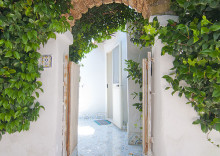 Le Querce is a new receptive structure born from an ancient farmhouse of the 1700. Immersed in an oasis of tranquility, offers its guests a warm welcome in comfortable one- or two-roomed apartments with fully equipped kitchen and private bathroom with everything you need, plus with open terrace and common parking. All apartments overlook a large courtyard, and each has its own gate. The garden has a large lemon grove, two lakes full of water lilies in the shade of the surrounding centuries-old oaks. And there is also the possibility to use the large wood-burning oven and the embers!
Other reasons to choose our Residence?
there's a free WiFi connection in every room and private yard in order to surf the net for the whole vacation.
Every room has an own air conditioning system so you you can enjoy a mild temperature during our warm summertime ( it is possible to use the air conditioning with an extra on the price)
Every room has an own private outdoor space with a paddock, where you can eat or sunbath in full relax.
Our rooms are equipped with nice tvs
Nella struttura è comprensivo un parcheggio a completa disposizione dei nostri Ospiti.
Our residence is at 200 mt far from the Faro rocks, a pictoresque place on the island in the gulf of Naples.
Every yard of every room has a paddock where it is possible to host your four-footed friends respecting the relax of everyone.
What do they say about us?
A customer is our best advertisement
It was really nice to see the kids having so much fun. In the city, no matter how organized we are, we have no idea how much an island can offer green and welcoming spaces. Le Querce is really surrounded by greenery as they say, and it is a pleasure to spend your holidays there! My husband has already made arrangements for next year!

Laura Vitale

I read that Procida had small streets, and two friends of mine and I finally decided to come with our motorcycles. The serenity of having a parking space for our "jewels" was a fully satisfied requirement! What can I say, the island is wonderful!

Luca Capasso

I'm a workaholic, and I just can't stay without it, but then in Procida I realized that I could relax for a moment. Although I must admit that the free WiFi in Le Querce was useful for me to read at least my e-mails in the evening!

Giulio Raffone

My husband gifted me a trip to Procida in the summer, and since we were recently married it was like a second honeymoon for us! Constantly under the pleasant attention of Le Querce staff! And they suggested us many interesting places to enjoy delicious dishes, we will come back for sure.

Valeria Guardasole